March 20, 2015
The 85th National Tournament will be held at Victory Lanes in Portsmouth, Virginia starting on 2 May 2015 and running through Memorial Day 25 May 2015. There will also be an associated youth event running simultaneously with the National Tournament this year. With the tournament being held in Portsmouth, you are only a short distance from Virginia Beach, so you can bring the entire family and participate in the tournament and enjoy the Virginia Beaches as well as other local attractions at the same time.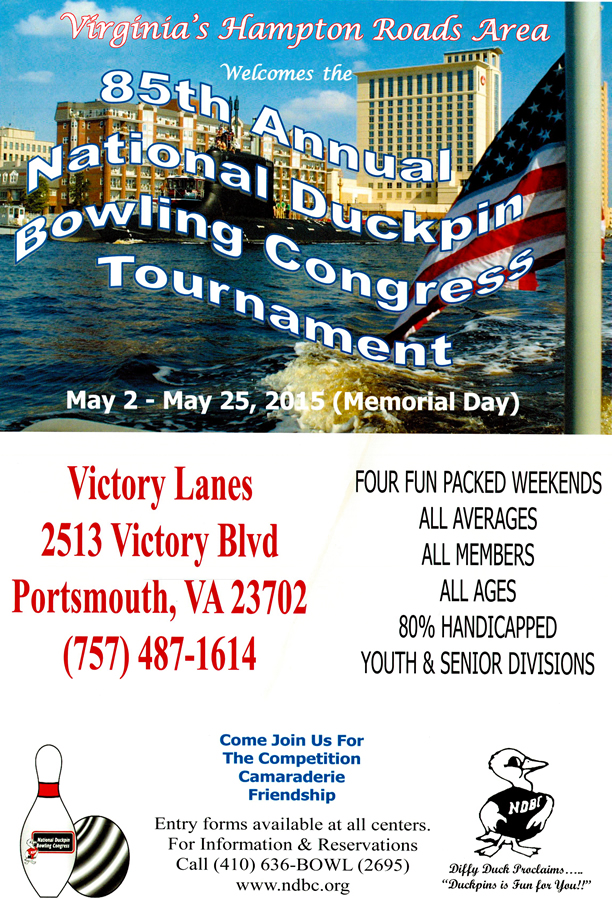 Upcoming Events
NDBC Board of Directors
April 30, 2015 - 7PM
Hampton Inn
4449 Peek Trail
Chesapeake, VA 23321
757.465.7000
Annual Meeting
May 1, 2015 - 10AM
Hampton Inn
4449 Peek Trail
Chesapeake, VA 23321
757.465.7000
24th Honors Banquet
May 1, 2015 - 5:30 PM
First Lady of Suffolk
447 West Washington Street
Suffolk, VA 23434
757.646.5152
Opening Ceremonies
May 2, 2015 - 11 AM
85th National Tournament
---
NDBC Rule Book
---
Game Coupons
The NDBC has made several changes in what is distributed to our members. One of those decisions was to cease printing the coupon books after discovering they aren't being used as much as we expected. The decision doesn't mean the program went away. We are now providing the coupons on this website. Please visit the Membership page to download a printable PDF coupon that can be taken to the lanes with you. Thank you for continuing to be a bowler of record by sanctioning through your league.