President's Message
Dear NDBC Members,
As we approach the end of the 2012/2013 bowling season, we are now gearing up for the grand finale.  The 83rd National Duckpin Bowling Congress Tournament begins Saturday, May 4 at Highland Bowl in Cheshire, CT.  This event will run each weekend in May, concluding on Memorial Day (May 27).
The National Tournament will consist of four divisions with four prize lists.  There will be two Singles divisions (based on averages), a Doubles division, and a Triples division.  All divisions are handicapped at 80%, so this event is designed for all bowlers with any average. 
A lot of hard work and preparation has been done by the Bowlers Association of Connecticut and Highland Bowl's Proprietor Todd Turcotte to make this year's National Tournament a success.  I would like to say "Thank You" to the BAC and Todd for helping to put this very special event together.  Please show your appreciation and support by participating in the 83rd National Duckpin Bowling Congress Tournament.
Sincerely,
Al Zoraian
President, NDBC
---
May 21, 2013
Weekend 3 of the National Tournament
With the 3rd weekend in the books there has been no change in the leaders for the Singles Divisions. Brian Ewing still sits atop the Singles A Division and Kevin Kroll continues leading in the Singles B Division. There was a change in the leaders of the Doubles with Kris Semeraro and Dave O'Connor moving into first with a combined score of 1073. Kyle Shaw, Chris Ganoe and Colin Dunnack have took over first place in the Triples Division with a combine score of 1543. There is one more weekend to go with 4 days of competition left. Come out and put your mark on history by competing in the National Tournament.
April 22, 2013
Spotlight on Connecticut
Over the years there have been many Connecticut bowlers who have excelled on the lanes. One that comes to mind is Mariellen Vogt. In 1979, Mariellen set the World Record for the Most Number of Games Rolled by an Individual in a Singles Season, which is 1344. Another well known Connecticut bowler by the name of Amy Bisson Sykes holds the Ladies High Season Average of 155.080. Coincidently she established that record at Highland Bowl, the host of the 2013 National Tournament, during the 2005-2006 bowling season.
Upcoming Tournament
83rd Annual National Duckpin Bowling Congress Tournament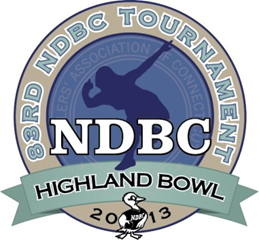 @HIGHLAND BOWL
1211 Highland Avenue
Cheshire, CT 06410
(203) 272-6500
Opening Ceremonies
Saturday, May 4, 2013
11:00 AM
Unisex Singles, Unisex Doubles, & Unisex Triples
Tournament Dates
Sat., May 4 & Sun., May 5
Fri, May 10, Sat, May 11 & Sun, May 12
Fri, May 17, Sat, May 18 & Sun, May 19
Fri, May 24, Sat, May 25, Sun, May 26 & Mon, May 27 (Memorial Day)
Registration Form More Tournaments
---
Upcoming Events
NDBC Board of Directors
20 July 2013
AMF Southwest at 10am
Linthicum, MD
NDBC Board of Directors
16 November 2013
AMF Southwest at 10am
Linthicum, MD
NDBC Board of Directors
15 February 2014
AMF Southwest at 10am
Linthicum, MD